Greetings from the Head of School:
Dear Friends,
With the impending launch of the new Early Learning Center, Epiphany is poised to do more for more children. In order to do that, we need to raise more money and continue to spend what we have been given as prudently as possible. To that end, for several years now, Epiphany has kept a cap on expense growth of 3% or less while simultaneously pushing to bring in more support from corporations and using social media to recruit more people to the cause. This issue of Always Learning reports success on both of these fundraising fronts. First, Commodore Builders…not only did they finish the beautiful new addition on time and under budget, but they are also "early-bird" sponsors of our 20th Anniversary gala. Thank you, Commodore! Second, Whitney White…what an amazing lady she is! Through Naptural 85, her "vlog" on YouTube and Instagram, Whitney reached out to hundreds of thousands of people around the world for Epiphany and raised over $15,000 in a day!
There is much else to read in this edition, and great things are happening here at your school, but, while we rejoice in our new supporters, you are the ones who got us where we are. These wonderful kids, like Tiffany Smyth '10 profiled below, are full of promise and potential, and you help them live up to that. You are amazing people who make a real difference. Alone, none of us is a match for the challenges that face these great children, but together we are strong. God bless you, and thank you for all you do to help.
Your Grateful Head of School,
The Rev. John H. Finley IV
Corporate Partner Spotlight: Commodore Builders
As 2017 comes to a close, we are excited to highlight our newest Corporate Partner: Commodore Builders. Just over one year ago, Commodore Builders broke ground so Epiphany can "start younger and grow stronger." We are proud to report that the project is complete ahead of schedule and slightly under budget! Thanks to the expertise of our friends at Commodore, we now have both a brand new Early Learning Center and a terrific Graduate Support Center, as well as more housing for our expanding Teaching Fellows Program and additional administrative offices for staff and community partners – all located at 230 Centre Street just around the corner from our middle school. This amazing project expands our footprint and our impact.
Not only did Commodore build a phenomenal building, they are continue to be involved with us as a Corporate Partner. Most recently they became an "early-bird" sponsor of our 2018 Spring Gala: 20 Years in the Making! Thank you Commodore Builders!
Epiphany Stars: Graduate Profile
Tiffany Smyth '10
Erika Forrest (Director of Graduate Support) says, "success at Epiphany comes when our graduates are living lives of productive engagement, both personally and professionally, when they are being helpful to others, healthy, happy, self-sufficient, and supporting themselves financially."
This month we are proud to feature one of our graduates: Tiffany Smyth ('10) who is on her way to Mrs. Forrest's definition of success. Tiffany sets a stellar example for current Epiphany students and Graduates. She has overcome many obstacles and is steadily working toward achieving her full potential.
Tiffany came to Epiphany through our partnership with the Massachusetts Department of Children and Families. She was in a foster care home at the time and describes her four years at Epiphany as challenging, supportive, and loving. Tiffany made sure her grades were high, but school didn't always come easy for her. At times she struggled to maintain a positive attitude and effectively manage her emotions and behavior, as it was a tumultuous time in her life.
After graduating from Epiphany, Tiffany attended Boston Arts Academy and majored in theatre. She soon realized that high school was very different from middle school, and she missed the close and loving community that Epiphany fostered. Tiffany went through a rough time after high school and wasn't ready to go to college. She cut ties with everyone until the day Erika Forrest and Barbara Guilfoile (Epiphany's College Advisor) showed up at her doorstep unannounced and unwilling to take "no" for an answer. They helped Tiffany apply to college and get the financial aid needed so she could get back into school and back on track.
Today, Tiffany is an undergraduate at Bridgewater State University, majoring in social work. She's maintained as impressive GPA and will graduate in 2019. She participates in multiple clubs, volunteers at Jump Start, and will go to Florida in January to help the Deferred Action for Childhood Arrivals students.
We are grateful Tiffany continues to be an active part of the Epiphany community as an involved graduate. Who knows? She may even join our staff as a Teaching Fellow in the near future. Stay tuned.
Learning is Cool: Epiphany Curriculum Highlights
Social Justice through Linear Equations
Mr. Harvey's 8th grade class recently completed a research project incorporating linear equations and presented their data findings to the whole school on December 7th. The data on display demonstrated the use of slope and slope intercept forms, linear equations, scatter plots, and describing a line to best fit data collected. The entire class did a superb job describing their equations and explaining how they used math to arrive at their conclusions.
Below are two of the students' projects and their results:
Malayah: Did the number of incarcerated people increase or decrease in the last 10 years? In the last 10 years, the number of incarcerated people increased.

Tyanna: In the past 4 years, which race was affected by HIV/AIDS the most? In the past 4 years, the linear equation increased for African American people, therefore, they have been affected by HIV/AIDS the most.
Epiphany News
Amazing Winter Showcases
Each year, the Annual Winter Showcase offers something new along with annual favorites, and this year we doubled up with two showcases. First, on Wednesday, December 13th, the 5th and 6th graders performed for friends and family. In keeping with tradition, the 5th graders performed our annual Christmas pageant and our 6th graders performed a Christmas-themed play. Then, on Thursday, December 14th, the 7th and 8th graders showcased their own plays, performed original dances, and sang a list of familiar Christmas songs.
We are amazed by the creativity, energy and effort of our students who not only performed but also planned and helped create the impressive set designs.
Merry Christmas!
.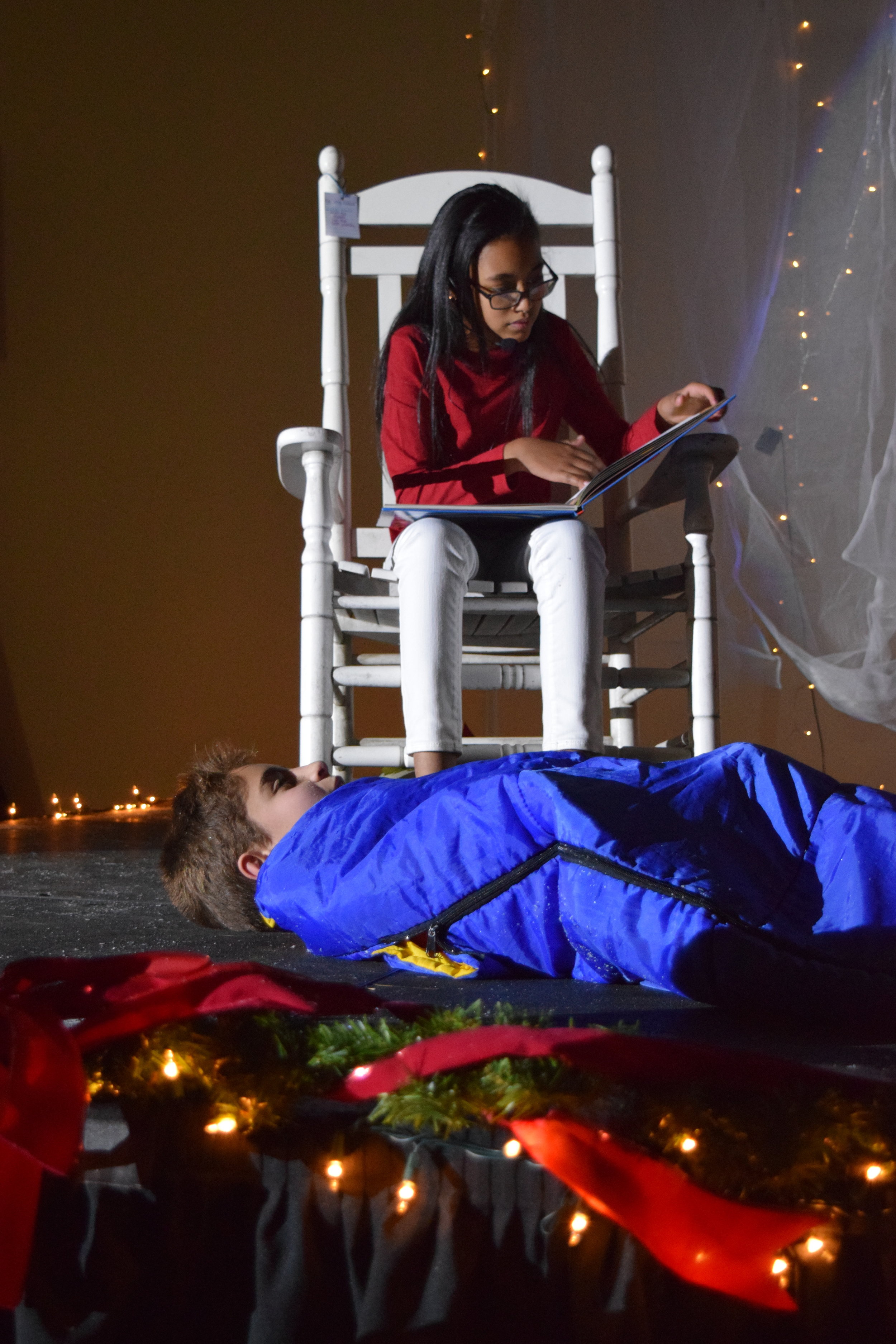 Thank you Whitney!
On Saturday, December 9th Whitney White, the Superstar Hair + Lifestyle Vlogger, hosted a 12-hour live stream on her YouTube Channel to raise funds for Epiphany School-her 2017 charity of choice.
We are deeply grateful for Whitey and her team. Their energy, talent, creativity, and passion for Epiphany are infectious and genuine. We love reading all of the positive and encouraging comments offered by the over 500 people from as far away as the United Kingdom who made contributions during the live stream. We are truly living in the age of global connectivity!
It was a momentous day in Epiphany's history, and we owe it all Whitney and her team!
If you weren't able to catch us live, the two videos are still on Youtube. Click here to view the videos.
Byron Hurt visits the young men at Epiphany
On Friday, December 15th, award-winning documentary filmmaker Byron Hurt visited Epiphany and met with the Brotherhood to speak about his acclaimed documentary film, Beyond Beats and Rhymes. The documentary analyzes the representation of gender roles in music, particularly as it relates to the modern hip-hop era and helps viewers critically assess their own perceptions, biases and values.
The Brotherhood watched and discussed the documentary prior to Mr. Hurt's visit as part of their recent group discussion topic: "Respect for Women."
Mr. Hurt's desire as a documentary filmmaker is to promote self awareness and to help men and women develop healthier relationships with each other to end instances of domestic and other kinds of violence in communities across our nation.
He engaged in an open dialogue with the Brotherhood that helped Epiphany's young men share their opinions about images in the media, how those images affect their cultural understanding, their perceptions of themselves, and their values related to what it means to be respectful to women, each other, and themselves.
Charitable giving before the year end
If you are considering giving a gift of stock to Epiphany this year, thank you! We know that the changes ahead in tax reform may indeed have an impact on these types of gifts. Giving now before year end could be more important than ever. Please read this recent article from the Massachusetts Nonprofit Network to learn more about this important issue facing our sector in 2018. If you'd like to make a donation of any type, please click here. Every gift makes a HUGE difference in the lives of our kids. Thank you!
Upcoming Events
2018 Spring Gala: 20 Years in the Making
Please join us on April 27, 2017. Click here to let us know if you are interested in purchasing a table, tickets or becoming a corporate sponsor.