Greetings from the Head of School:
For this month's Always Learning, I am resorting to a checklist:
● If you use (or are considering using) Instagram, search for and follow "Mr_Deleveaux," where Lead Teacher, A.B. Deleveaux serves up a very special window into the life of Epiphany—e.g., jumping rope in the gym, the faculty vs. student basketball game, and excerpts of the 8th grade sermons.
● After signing up for "Mr_Deleveaux," please also follow "epiphanyschool.com," another great source for Epiphany stories.
● Finally, re: Instagram, please follow @epiphanyprojectnatural. Lead Teacher, Jackie Brice '05, and Teaching Fellow, Samantha Rodrigues, are working with students to get donations from hair care companies, and the more followers they have the better.
● Last but not least, this Always Learning is my last chance to exhort you all to come to the gala on April 28th. The kids and the teachers are hard at work, but what makes the evening is YOU! Your presence at this event, cheering on the kids, has a huge impact. We cannot have a successful gala without you.
Friends, your support affects so many wonderful children here. We really appreciate all you do to help. Thank you!
Your Grateful Head of School,
The Rev. John H. Finley IV
PS An enthusiastic shout-out to Osa Okoh '07. He's yet another Epiphany graduate who has returned to Epiphany to give back to the next generation. (Check out his profile below.)
Partner Spotlight: Eastern Bank
We are thrilled to recognize our newest corporate partner, Eastern Bank. As annual fund supporters and gala sponsors, Eastern Bank's generosity translates into meaningful results for our students as they thrive and grow in the classroom. We even have a member of the Eastern Bank family who tutors one of our 5th graders each week.
Each year Eastern Bank contributes $7 million to charitable organizations throughout eastern MA and coastal and southern NH. They support a variety of organizations under different focuses and 15% of their contributions go to education. Through their philanthropy, they want to make sure that marginalized communities get equal access to food, shelter, education and other basic necessities for life. We are so grateful for their support!
Teaching Fellow Profile: Osarumese Tony Okoh '07
Osarumese Tony Okoh '07 is a new Teaching Fellow at Epiphany, he returns to us nine years after graduating from Epiphany as an 8th grader. His desire: to positively influence students in the same way he was influenced as a student here. As a Donovan Scholar at Boston College (BC), he is currently taking three classes there and is enjoying his learning experience as he pursues his Master's Degree. During his first semester at BC, Mr. Okoh had to pick a school to do his practicum, and without hesitation he picked Epiphany. Although it is challenging to work at Epiphany for more than 7 hours each day and manage papers and class assignments, he wouldn't have it any other way.
Knowing he would teach alongside some of the teachers who taught him as a young man, brought him a sense of confidence and comfort. He knew he could learn how to teach students effectively and also support their social and emotional development as a mentor. He remembers fondly Mrs. Daly, his 8th grade English teacher, putting in extra hours to make sure he did his best work. He also recalls how loved he felt after experiencing a death in the family. Mr. Okoh received the support he needed from the staff and continues to be grateful for all Epiphany did for him.
Currently, a 7th grade reading enrichment teacher and assistant to Mr. Brown's 8th grade Social Studies class, he appreciates the feedback from his students. "Their honesty pushes me to make my lessons more effective. Because of my students I am confident in my decision to continue as an educator and to teach history," remarks Mr. Okoh.
Learning is Cool: Epiphany Curriculum Highlights
City-Wide Writing Contest
Ms. Aybar is following the 3 Point Foundation Curriculum to guide a select group of 7th and 8th grade girls as they participate in a city-wide essay contest. Assisting Ms. Aybar are a few dedicated and passionate UMass-Boston students who have been volunteering as writing coaches working in small groups.
The topic of the essay is how to address violence in all its forms. The students have been brainstorming different ways to take action and make their communities safer, and they plan to send their work to government officials. The winners of the contest will be announced at the beginning of May. Regardless of the results, the girls have been enjoying their workshops so much that they want to continue sharing their stories!
We are grateful for the support of the American Guild of Organists (AGO) and UMass Boston who are sponsoring this contest.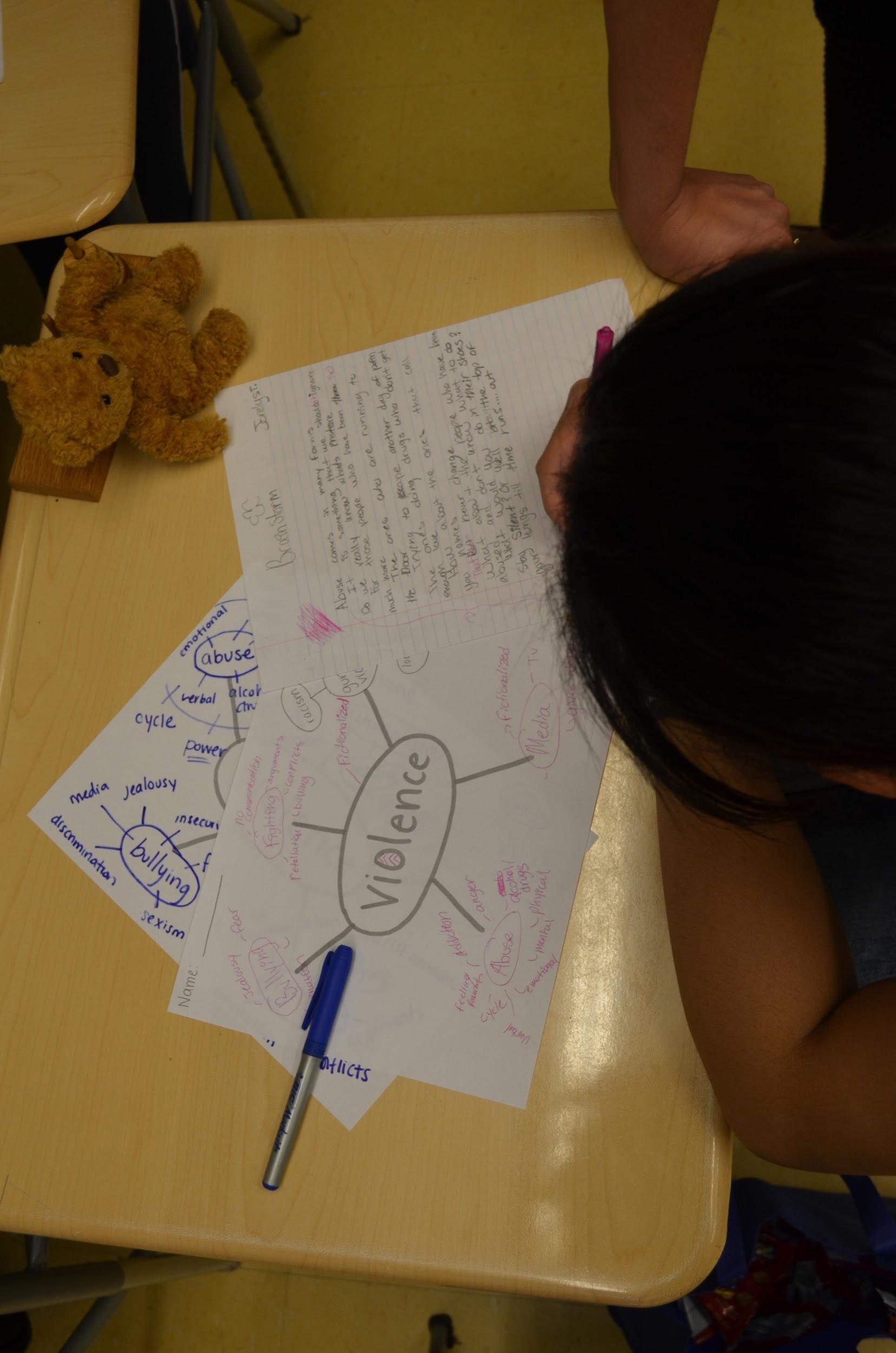 2. Students view Baldwin documentary: I Am Not Your Negro
Mr. Simon and his 8th grade Reading Enrichment class watched the James Baldwin documentary, I Am Not Your Negro. The documentary was supplementary to the book they read in class, The Fire Next Time. I Am Not Your Negro, which featured multiple interviews with Baldwin, provided the students with enhanced perspectives on his work.
As their final project, they wrote a letter to their imaginative nephews to explain their struggles and the current racial situation in America just as James Baldwin does in The Fire Next Time.
3. Earth Cake in 6th grade!
Lead Teacher Marilee Bennis, in her 7th year at Epiphany, knows how to make Earth Science sweet. This year she made an Earth cake covered with blue and green frosting representing the oceans and continents for her 6th grade Inside the Earth science class. As she sliced through the cake on March 20th, the students discovered a chocolate center, the core of the Earth and the vanilla cake – the mantle – surrounding it. The 6th graders had to list five observations as Ms. Bennis walked around with the cake. What a creative and fun way to introduce a new topic!
Cooking and Gardening Club Goes to Taza Factory!
The Green Club launched in the fall of 2016. Each Tuesday afternoon, 20 students and their teachers come together to collaborate on cooking and gardening activities. This year, their activities have included: growing vegetables in the Food Project's Dudley Greenhouse, working on the Food Project and the Urban Farming Institute's urban farms, visiting the Nightingale Community Garden, and planning and cooking nutritious dinners for the entire school once each month. Additionally, the club recently took a trip to the Taza Chocolate Factory in Somerville. It was a fun way for the students to see how one of their favorite sweets is made, and needless to say it was a hit.
2. Monthly Graduate Dinner
Epiphany grads with the Bank of America representatives
On March 13th, two Bank of America representatives presented Banking 101 to Epiphany Graduates. The session explained the basics of personal banking and managing a bank account. The session was very interactive and informative. Graduates had the opportunity to answer the questions the representatives prepared, and if they got them right they got a tchotchke.
3. The Morehouse College Glee Club Concert
On Friday March 17, 2017, students and staff members attended the Morehouse Glee Club concert! Mr. Aidid Brayboy 07', current Epiphany Teaching Fellow, attended Morehouse College as an undergraduate and was eager to introduce his students and colleagues to this Morehouse College tradition. The Glee Club performed a variety of songs such as Happy and Betelehemu. The concert provided an uplifting and moving experience for all in attendance.
Please click here to view a clip of the concert.
4. The Morehouse College Men's Conference
A group of 7th and 8th graders attended the Morehouse College Men's Conference focused on the enrichment of African American young men. It is an annual one-day conference that offers empowered enlightenment and guidance to middle and high school young men of color in the Greater Boston community. To kick off this year's conference, Dr. Bryant T. Marks, Sr., Associate Professor of Psychology and Director of the Morehouse Male Initiative, was the conference keynote speaker. He hails from Roxbury and shared his captivating story of growing from a young man who faced challenges to the ways he was able to turn his life around and go on to become a college graduate and successful professional. He also emphasized for the young men the importance of being active agents of change in their communities and offered different strategies. Our own Mr. Aidid Brayboy '07 was a conference presenter and hosted a successful workshop entitled Ain't No Hold Up, focused on socially constructed limitations and oppression.
. High School Acceptance!
Congratulations to the Class of 2017. So far they have received the following high school acceptances:
Noble and Greenough School, Milton Academy, Winsor School, Rivers School, Belmont Hill School, St. Sebastian's School, Cambridge School of Weston, St. Andrew's School (RI), Winchendon School, Walnut Hill School, Dublin School, Boston College High School, Boston Latin School, Boston Latin Academy, O'Bryant School of Math and Science, Catholic Memorial, Mount Alvernia, Fenway High School, New Mission High School, Milton High School, Cathedral High School, Cristo Rey High School, City on a Hill Charter, Roxbury Preparatory High School, Archbishop Williams, and Fontbonne Academy.