Greetings from the Head of School
Dear Friends,
Years ago, I memorized Robert Frost's Two Tramps In Mud Time, the message of which is summarized in the final stanza:
But yield who will to their separation,
My object in living is to unite
My avocation and my vocation
As my two eyes make one in sight.
Only where love and need are one,
And the work is play for mortal stakes,
Is the deed ever really done
For Heaven and the future's sakes.
The Epiphany community abounds in playful work for the highest stakes, and together we are changing the trajectory of these wonderful kids. The wizards who keep our tech running, the farmers who host our 5th graders in Vermont, our graduates like Oronde who have given Epiphany such a stellar reputation, the civic leaders like City Council President & Congressman Kennedy, everyone highlighted in this edition of Always Learning, and you too are all needed here and love to help. God bless you!
Your Grateful Head of School,
The Rev. John H. Finley IV
P.S. If you get The Globe, please see the end of this email about an easy way to help Epiphany.
Corporate Partner Spotlight: Net DirXions
This month's corporate partner spotlight goes to Net DirXions. They are our IT consultants and can often be found around campus fixing the wifi, training our teachers on how to use their SMART Boards, setting up student and staff computers, and more! Their 24/7 support is essential to both improving our technology and keeping it running!
In addition to solving any and all IT issues at Epiphany, they also designed and built our beautiful new website. They took our vision and made it a reality, and we are thrilled with the results!
Most recently, Net DirXions sponsored our 20 Years in the Making Spring Gala and helped us exceed our goal.Thank you, Net DirXions, for your abiding support!
Epiphany Stars: Graduate Profile
Oronde Alfred '14
The Epiphany class of 2014 is getting ready to graduate from high school and matriculate to college. They have been accepted to numerous colleges, including Brandeis University, Johnson & Wales University, Salve Regina University, Suffolk University, UMASS Amherst, UMASS Boston, and Wellesley College. We are extremely proud of them as they take this next step in their educational journeys.
We are highlighting one of those 2014 graduates this month--Oronde Alfred! Oronde has gone through a transformation from his first day at Epiphany to today. A troublemaker in 5th and 6th grade; he is now getting ready to attend Salve Regina University in Rhode Island!
Oronde's path first took a turn in 7th grade, when he was in Mr. Simon's homeroom and joined the track team coached by Mr. Bonner. Between the two of them, "they had an eye on me all the time!" he tells us. His 8th grade year was his favorite year at Epiphany. After a year of Mr. Simon's and Mr. Bonner's scrutiny he wasn't getting in trouble any more; the track team won the championship, and he was accepted to Archbishop Williams High School. One of his fondest memories was the 8th grade's annual trip to Washington, D.C. He loved visiting the monuments, museums, and universities, but his favorite part of the trip was eating lunch every day with Mr. Simon and his fellow 8th grader, Erik Gnomes. At the end of each lunch, they would buy a meal for a homeless person nearby and have a conversation with them. He is very grateful for all the support he's received from Epiphany during his high school years, from Mrs. Forrest's text messages to Mr. Joazard and Mr. Deleveaux attending his football games!
Oronde is looking forward to college, where he will play football and study hard with the goal of becoming a lawyer--or perhaps the Dean of Students at Epiphany!
Learning is Cool: Epiphany Curriculum Highlights
Chopped Junior: 5B Edition
In April, Ms. Brice's 5th grade class adapted the Food Network show Chopped Junior into their own unique culinary competition. Each team of students was given two mystery-basket ingredients and used their understanding of fractions to make a batch of brownies. The judges--Mr. Penney, Mr. Brown, Mr. Simon, and Ms. Harriott-- sampled each team's brownie creation to determine the winner. They were judged based on flavor, creativity, presentation, and recipe from a scale 1-4, 1 being poor and 4 excellent.
The rules were simple:
Everyone must demonstrate kindness and respect to others.

Teams must submit a detailed copy of their recipe, and they must follow the recipe as it is written.

Teams must use at least two of the mystery-basket ingredients in their recipe.

Each team will have 45 minutes to prepare their dessert. This does not include baking time.
Each team member was expected to participate, which means that each team member worked patiently and actively with their teammates to complete this project. The students had a lot of fun creating their own brownies. The judges couldn't get enough of them and couldn't decide on a winner.
Epiphany News
Annual Career Day
On Friday, April 6th, our Graduate Support team hosted a Career Day for 7th and 8th graders at our new building, where we were joined by more than 20 professionals working in diverse fields around Boston. Following breakfast, Boston City Council President Andrea Campbell kicked off the morning with an inspiring keynote address. The students then split into smaller groups based on areas of interest, and our guests spoke to our students about their work, what led them to do what they do, and answered our students' questions about themselves and their fields.
Thank you to all the participants for sharing their moving life stories with our kids! What a great way to begin spring at Epiphany!
Sahmir speaks at the BIDMC Sustainable Youth & Public Health Summit
The Beth Israel Deaconess Medical Center (BIDMC) Sustainable Youth & Public Health Summit is organized by BIDMC and Project Green Schools. Together, high school students and educators from across Boston to address the topics of sustainability, resilience, public health, and green careers.
This year, Sahmir, our 8th grade Cooking & Gardening Club leader, was invited to the Summit on April 9th to talk about our sustainability and public health initiatives here at Epiphany. He did a great job!
Facing History meets Dr. Anna Ornstein
Our 7th and 8th grade students who participate in Facing History and Ourselves had an extraordinary experience this April at a joint meeting with the Rashi School. They met Dr. Anna Ornstein, a Holocaust survivor and professor of psychiatry at Harvard University, who told her story and answered the students' questions about her experience. Dr. Ornstein is an amazing speaker, and her story of resilience was truly moving and brought history to life for our students.
Farm Trip
In April, our 5th Graders travelled to Vermont for their week-long Farm Trip with Farms for City Kids! They made cheese, tapped trees to make maple syrup, milked cows, collected eggs, mucked out stalls and experienced every aspect of life on a farm.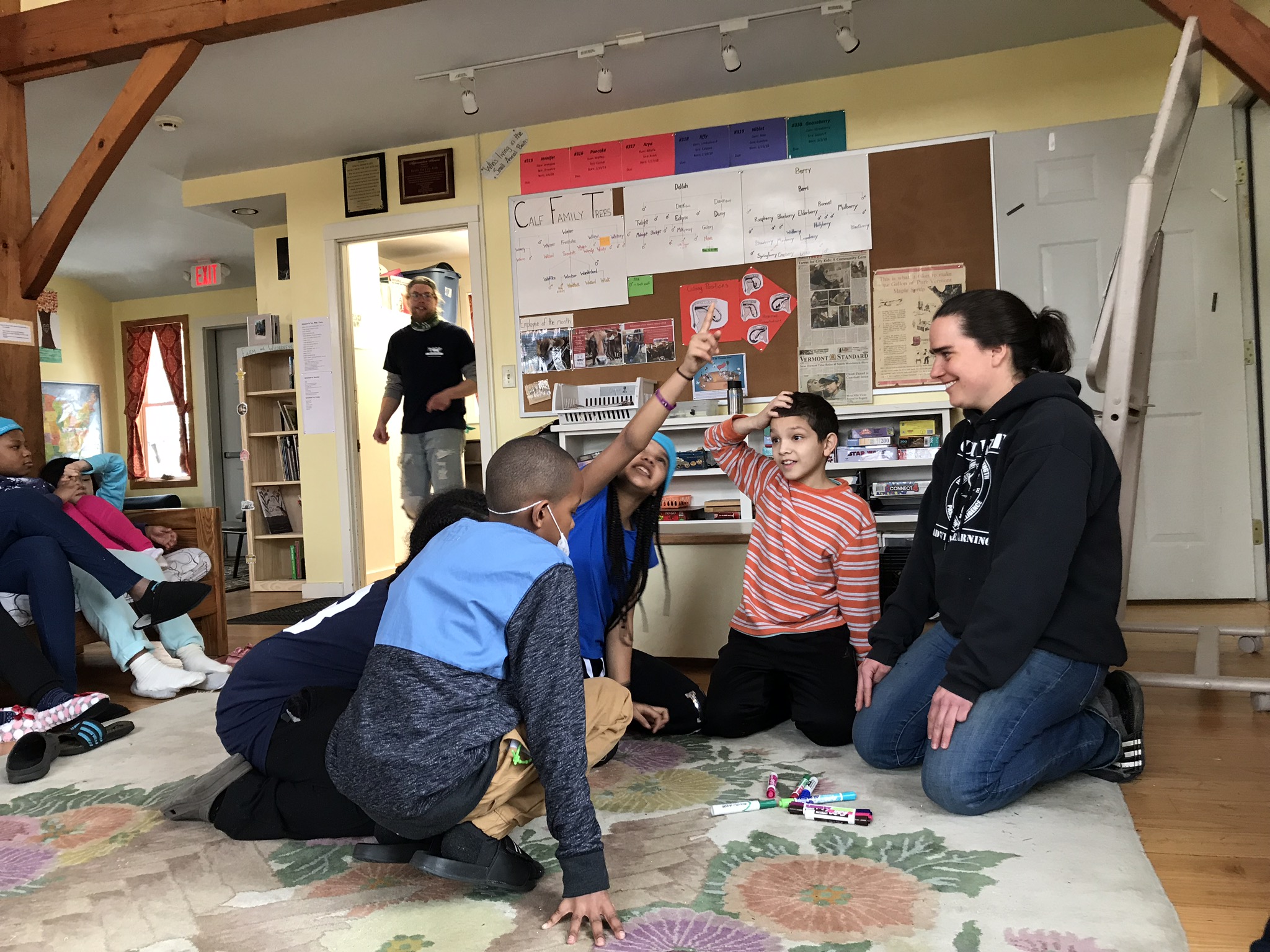 Poetry Slam Winners!
The Epiphany School Annual Poetry Slam was held on Monday, April 30th. This year's theme was "Time's Up," and 20 students recited poems they wrote inspired by what "Time's Up" means to them both in current events and in their own lives. This year's winners are Andrew, 7th grade, and Takari, 6th grade. We are very proud of them! Click here to read their poems.
Special visit from Congressman Joe Kennedy
On Friday, May 11, we were honored to welcome an inspiring visitor: Congressman Joe Kennedy III! Our students shared some of the issues they would like to see addressed in our community, including gun violence, incarceration, and free summer programming for children. He listened carefully to our students' concerns and seemed quite impressed by their insightful suggestions! He then took a tour of the school and had lunch with four of our students. One of those students, Luis from the 7th grade, is a big history buff and was over the moon at the chance to speak with a Kennedy!
Students vs Teachers Basketball Game
On Thursday, May 24th, we held our annual students versus teachers basketball game. The teachers won, but the kids were formidable opponents! Here are a few pictures from the game.
Help us get an ad!
We were excited to learn hat the Boston Globe is bringing back GRANT (Globe Readers And Non-profits Together), a community initiative that allows subscribers to help deserving non-profits earn free advertising space in The Globe.
If you are a Globe subscriber, you have a $25 in GRANT voucher to allocate to the certified 501(c)(3) of your choice, and receiving these vouchers would be a huge help to our school!
If you would like to allocate your voucher to Epiphany, just click the ink below and ente "Epiphany School."
After the submission deadline on July 31st, we will be able to redeem our GRANT vouchers free advertising space in the Globe, which will help us spread the word of Epiphany to prospective students, parents, and donors!
Please click here to participate, and thank you for supporting Epiphany School!
Upcoming Events
Save the date for the Class of 2018 Graduation!
As we applaud our wonderful 8th graders who are matriculating to great high schools, we remind them to stay engaged with Epiphany and to support the kids coming behind them. Graduates help by tutoring, by donating money, and by serving on the Board of Trustees. Some of them even return here to teach. To honor the commitment of our graduates, a dear friend of the school has made a short video highlighting their contributions.
Click here and give it a look, and thank you for all you do for Epiphany.
Please join us on Saturday, June 16th, at 10:00am when we will say goodbye to another spectacular 8th grade class. Together, we will wish the Class of 2018 "bon voyage" as they move on to high school!