Greetings From Epiphany!
Dear Friends,
Please see below to learn about a real Epiphany Star, Jason Evora '13 (along with another Jason and another Epiphany Star, Jude Jason). See if you can solve Safiya's word problem, and read about Nijah's work at We Grow Microgreens. Please also look inside this issue of Always Learning to find out about events connected with Black History Month, and please do whatever you can to help with the Gala. (Instructions on what we need for the gala are below.) Last but not least, if you do nothing else, please know that we thank you from the bottom of our hearts for your support of these amazing children. God bless you!
Your Grateful Head of School,
The Rev. John H. Finley IV
NB Want to help the gala succeed because you know it has a big impact for the kids? Here are some ways to get involved. First of all, you can sign up to be a table captain. A wonderful friend will contribute $50,000 if we can secure 50 table captains. We just need 5 more to meet our ambitious goal! Will you be one of them? Please click here to unlock that $$$! Maybe you have an item for the auction? Click here to send us your idea! Reflecting on Our Future will be a great night. Make sure you get your tickets and tables here!
Corporate Partner Spotlight: MFS Investment Management
We are excited to feature MFS Investments in this edition of Always Learning as one of our outstanding Corporate Partners. Their support has been crucial for the success of our students and they recently made a gift to support our Annual Spring Gala to celebrate both the Early Learning Center, the newest addition to the community, and our middle school.
In addition to their financial generosity, Jude Jason, Equity Research Analyst at MFS Investment, has been an incredible volunteer. He is a true Epiphany Star!
Thank you, MFS Investments, for being an abiding supporter!

Epiphany Stars: Graduate Profile
Jason Evora '13
This month's Epiphany Star goes to...Jason Evora! Jason graduated from Epiphany in 2013 with his sister, Jalissa Evora. Jason joined Epiphany as a 5th grader, and he was a shy student until the class read The Frisby and the Rats of MIMH by Robert O'Brien in Mrs. Abernethy's class. The class was debating whether the rats should keep stealing from the humans or work hard and earn things. Mrs. Abernethy says, "Jason suddenly rose up from the ashes; he became the phenomenal force and thinker he was meant to be. He made deep connections to the text we were reading and was very articulate about his thoughts."
Jason is now at Suffolk University studying graphic design and recently interned at Goodsports, one of our loyal partners. His supervisor, Aaron, has nothing but praise in regard to his work ethic. Jason showed up every day enthusiastic, ready to learn and to work, with a deep passion for the mission and played a critical role in finding programs that fit Good Sports criteria. Aaron is still in contact in Jason and reaches out when they are in need of help.
We are proud of Jason and proud to have him in our community.
Learning is Cool: Epiphany Curriculum Highlights
Inequalities Presentations brought to you by the 8th Grade Religion Class
On February 15, the 8th graders presented their late winter projects, based on the dilemmas and inequalities in immigration and the criminal justice system. They created projects that recommended specific steps to solve the issues from the unit that they cared about.
One of the projects that struck a cord was "Is prison labor modern day slavery?" Micah explained that big companies such as 3M, ikea, H&M, Wholefoods and many more, hire inmates to do labor work, and pay them below the minimum wage. The rates vary from state to state and range from $0.16 to $2 an hour.
Math gallery walk
On February 27, Mr. Harvey's math classes presented their "Extreme Word Problems" project to the school. The project involved both writing a story that included a math problem and creating a poster to illustrate that story.
Each student had to solve 6 problems (out of 16) that their classmates had written. It was great to see the excitement and competition of who had the "best" problem.
Here is an example:
Shawn and Rosy by Safiya
It was the middle of summer in a decently sized town. The town fair was coming around, and every kid was begging their parents for permission to go. It was a busy time, and a lot of people were volunteering to help in order to get in free, but that wasn't the case for 15 year old Shawn who already knew he was set. His parents had told him that when he turned 15 they would give him $100 to go to the fair with a friend. They had promised this since he was young. Now that he was finally 15, he was more excited than ever, especially since he knew exactly who he was going with. His parents had given him the $100 dollars the night before, and he made the phone call to his friend that same night. Her name was Rosy, and Shawn may have had a little crush on her. He told her he'd be by her house around 12:00 pm the next day if she would agree to go. She did so the date was set, and Shawn was as ready as ever. The next day he picked her up at 12:00 pm, and they got to the fair at about 1:30pm. To get in everyone had to pay a $25 dollar fee, and 5 dollars for every hour they stayed in the park per pair. Shawn and Rosy planned to stay until midnight. Shawn paid for his own entry and so did Rosy. He told her he would pay for their hours. They were only staying until midnight, but if they wanted to how long could they actually stay?
Answer: 15 hours
Epiphany News
Morehouse Glee Club Concert and Conference
On Friday, March 15, Mr. Brayboy '07, Ms. Harriot, Ms. Louiny, and Mr. Harvey took a few students to see Morehouse College Glee Club Concert. We have done this before, and once again the whole experience was inspiring. Then on Saturday, March 16, the Epiphany Brotherhood attended the Morehouse Young Men's Leadership Conference, an annual one-day conference that offers guidance, empowerment, and enlightenment to young men of color in the Greater Boston community.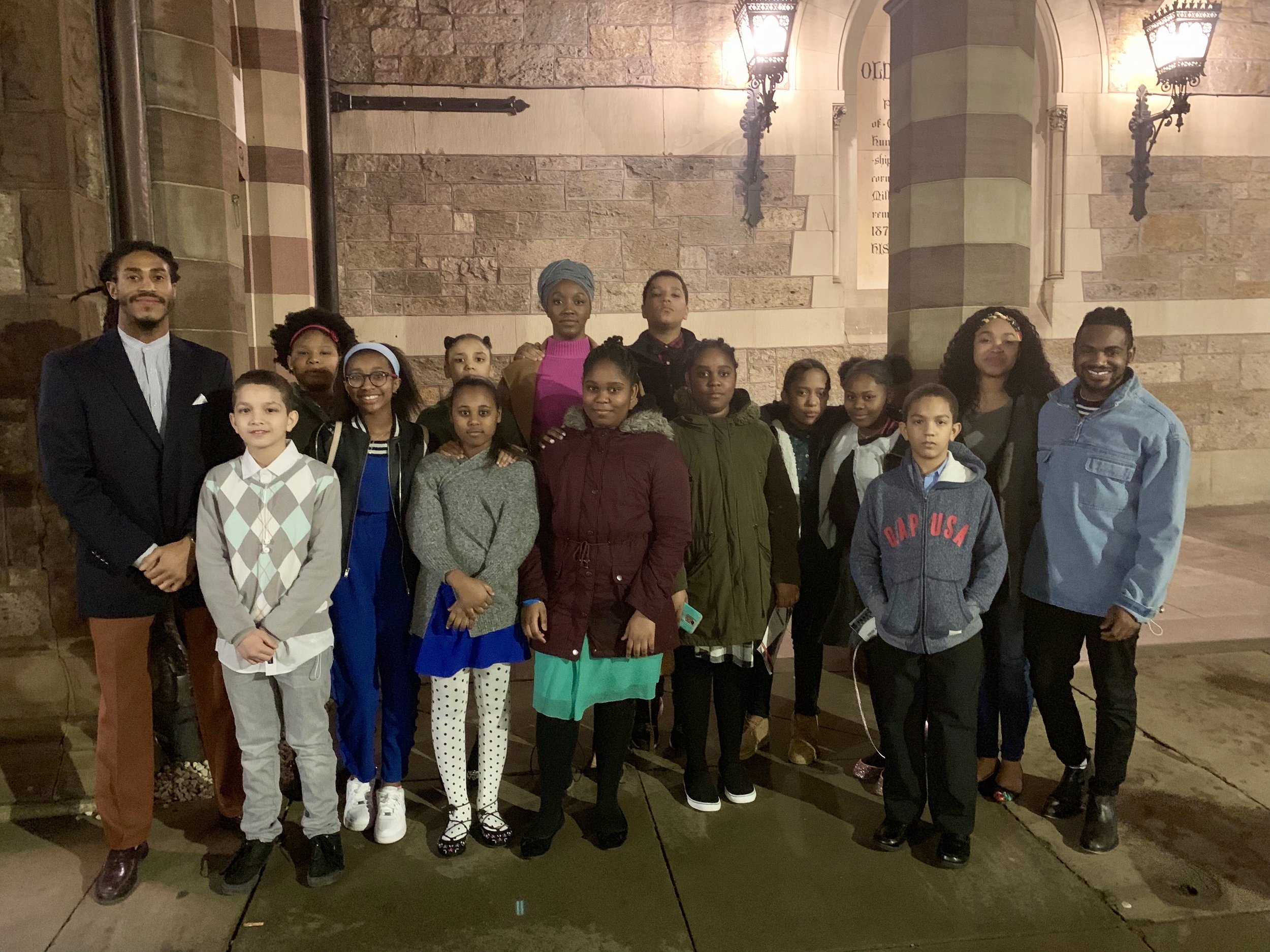 Black History Showcase
On February, Thursday 14, we hosted our annual Black History Showdown. It was phenomenal!
The first half of the showcase consisted of a Live Black History Museum, where students and families learned about the lives and stories of important Black figures. Additionally there was a Ceramic Exhibit, which displayed pieces inspired by and responding to the art of The Black Power Movement (1960-1980).
In the second half of the showdown, all grades competed against each other to see which grade had the most knowledge about important African-American figures. In between rounds, students showcased the dances and songs that they worked on from their art majors and minors. Congratulations to 5A for winning the jeopardy game!
Here are some pictures from the showdown.
Nijah, 8th grader, working at Wayland Farmers Market
We are proud of our 8th Grader, Nijah, who is doing an outstanding job at We Grow Microgreens at Wayland Farmers Market. Nijah loves working there, and having this real-world work has been a wonderful experience for her. The Wayland Farmers Market is in a tropical greenhouse and is open on Saturdays from 10 am to 2 pm. If you live in the area, please stop by to say hello to Nijah!
Kuumba Singers visit Epiphany again!
On Wednesday, January 17, the Kuumba Singers of Harvard College came to Epiphany for a tour and lunch and then shared their beautiful voices with us. They are amazing, and the effect of hearing all their voices in harmony was powerful. We enjoyed getting to know them and having the opportunity to ask them questions about college. One of our wonderful Teaching Fellows, Ms. Harriot, sang in Kuumba in college, and at the end of the concert she got pulled up to sing a solo. She blew us away!
Kuumba was founded in 1970 by Dennis Wiley and Fred Lucas following the 1968 assassination of the Rev. Dr. Martin Luther King, Jr. After the 1969 Harvard Strike, the choir emerged as a source of community, spiritual inspiration, political motivation and cultural stimulation among the small but growing number of Black students at Harvard.
Thank you, Kuumba Singers, for coming to Epiphany!